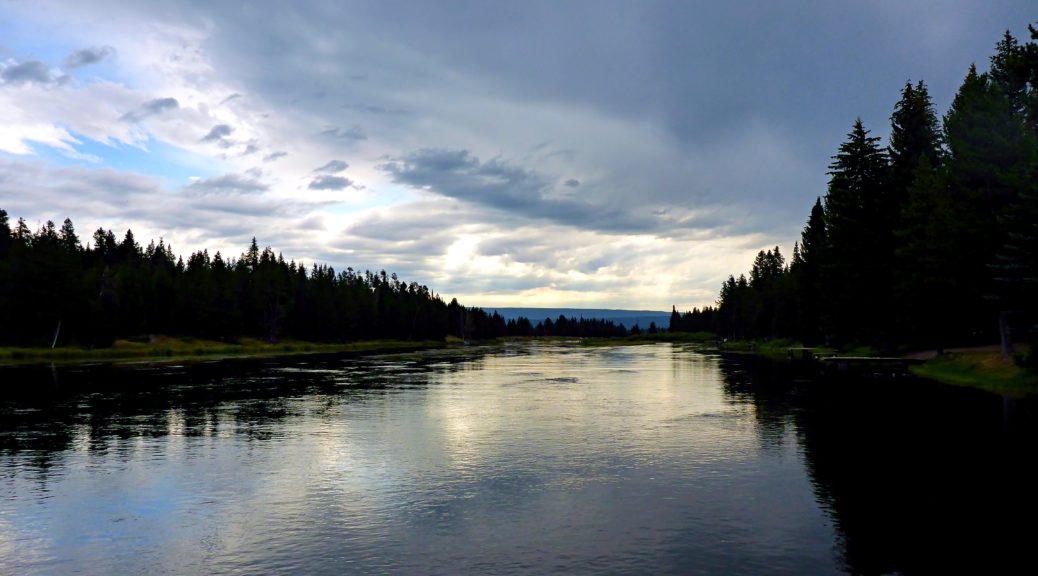 Our Happy Place
Our Happy Place
For the last two years we have visited Island Park, Idaho and so we couldn't let the year go by without us paying this awesome area a visit.  Island Park is located about 30 minutes South of West Yellowstone, MT which means its only about 5 more minutes to get into Yellowstone.  Don't let the population of under 300 fool you; as this has officially become our happy place!
On our first night we were able to catch a show at the Mack's Inn Playhouse.  They put on some "gut bustin' musical spoofs" nearly every night of the week.  While there we got dinner and caught The Three Amigos, Showdown at the Del Taco Ranch.  Drew Durrant (pictured above) and his wife Julie, own and operate the playhouse during the summer.  On the off season they head to Southern Utah to run the Rattlin' D Playhouse.  This was our first time at Mack's In Playhouse but we will be making this a regular stop during our future visits.
It would be hard for me to visit this area and not visit my favorite national park, Yellowstone.  We headed into the park and went over to the Canyons area and grabbed a bite to eat.  On our way into the parking lot we encountered a large Elk, strolling out of the trees.  We think that he may have had the same idea as us, but unfortunately he was quickly mobbed like a celebrity, complete with Ranger security, and wondered off back into the trees.  After lunch we went over the the Grand Canyon area to see the upper and lower falls.
Back when we were in Estes Park, we had talked about doing a horseback tour.  With everything else we had planned on that trip we ended up skipping it and thought we would try when we were in Island Park.  Eagle Ridge Ranch is located just 15 minutes from our campground and offer up a variety of tours.  We opted to take a 2 hour morning tour and are so glad we did.  The staff at the ranch took us through a quick orientation and got us up on our horses and we set out on our tour.  About 10 minutes into the ride Lily told me that her mouth was getting soar.  I ask her why and she said from the kissing.  See, the staff told us that to get the horse to go forward you needed to make a kissing sound and give them a little kick.  The part they didn't say is that you only needed to do that to get them moving and then you could stop.  Lily had been kissing continually since we left because she thought you had to do that to keep the horse moving.
After our last trip to Payson Lakes, we decided that we needed an easier way to get on the water.  The inflatable boat that we have is great, but is very heavy and takes a long time to get setup.  So, based on a recommendation from a friend, we picked up some Lifetime kayaks.  Just before we left we had Lily try hers out in a pool so we could make sure she knew how to paddle and could get back on if she fell off.  Once up in Island Park, we headed over to the  Island Park Reservoir and had an awesome time paddling around.  It was amazing how smooth they cut through the water even when we were going into the wind.  Everybody loved their time on the water and we are all anxious to get back in our yacks.