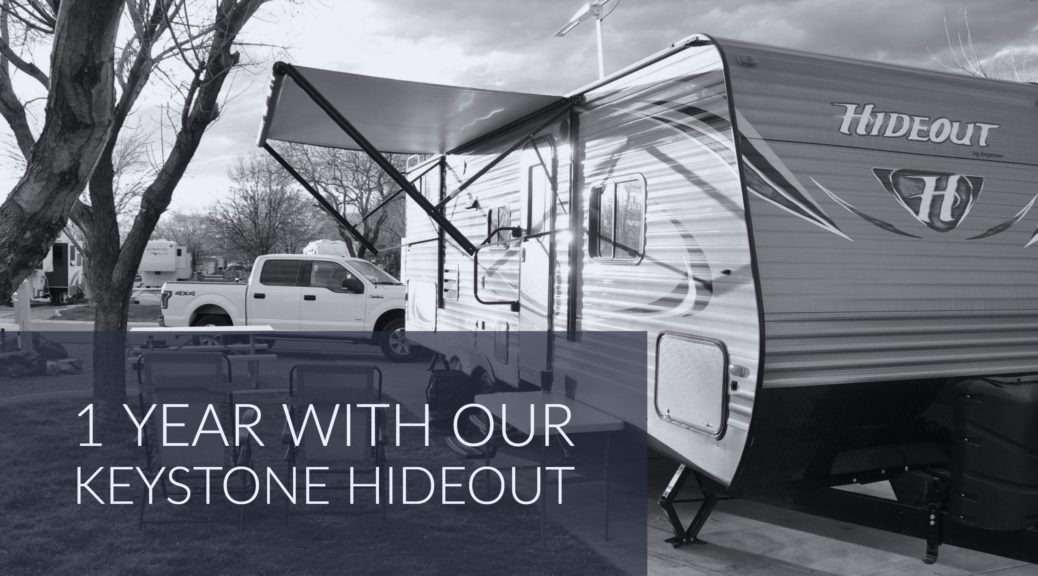 First Full Season in Our Keystone Hideout
First Full Season in Our Keystone Hideout
We purchased our Keystone Hideout in late 2015, so this was the first full year of camping in it.  Now having a camping year and 36 nights in the Hideout, we felt it was time to reflect back on our purchase and look at some of the positives and negatives.
In our post "Welcome to Our Secret Hideout" we outlined some of the main reasons we wanted to upgrade.  The first of those was having dedicated beds.  Our previous trailer had bunks for our daughter, but we had to convert the dinette each night for us to sleep in.  This upgrade has been amazing and really allows us to dress the trailer up with nice bedding.  It is great for all of us to be able to head back to the trailer and take a nap or just rest for a bit.  There have been a few times where the three (four with Livy) climb into the master bed and relax and watch a show.  When Lily was sick in Estes Park, the bed was a great place for her to rest and recover.  Against internet advise, we also opted to go with a model that did not have solid doors separating off the master.  This was intentional as we did not want to have to have the doors closed for us to be able to use the TV in the bedroom.  We have not looked back once at this decision and feel that the dedicated beds were 100% worth the upgrade.
Next on our list was a larger refrigerator.  Upgrading from the 3 cu foot fridge to the 6 cu foot has allowed us a ton more flexibility.  In addition, the Hideout has a drink fridge (electric only) in the outdoor kitchen.  We were able to fit everything we needed this year without requiring a cooler.  The outside drink fridge is something that we really haven't taken advantage of.  Where it is electric only it becomes a bit difficult for us to use and we aren't really short on space inside.  We did use it to hold extra drinks on one of our trips, but I am looking that the space it takes up and thinking about the storage we could have.
Third on the list was having a larger black tank.  The upgrade from 9 gallons to 38 has given us plenty of room, maybe even too much.  Since you really shouldn't dump your tank until you are 3/4 full (28ish gal in our case), we find ourselves having to frequently add water to the tank before we dump.  I will say that this is a much better situation than always being full and the extra water just tends to keep things a bit more clean.
Some other features that we have really enjoyed are the slide-out and the electric awning.  The slide provides an incredible amount of interior space and I really can't imagine not having one now.  The electric awning has been really nice, mostly because I can pull it in at night without having to go outside in my underpants and put it away.  The bathroom is huge and has a ton of space which has been awesome.  The built in vacuum has also been a nice to have.
A few things that I wish were different…
Dual gray dumps.  So on my trailer I have 2 connections.  One is for Black/Gray and the other one is for a Gray from the kitchen.  I can see this as a nice feature if you want to dump just your gray from the kitchen without any concern of contamination.  We really haven't needed to do that so it is just an inconvenience as I have to dump, disconnect and reconnect and dump again.
Lights in the storage area.  For some reason Keystone only placed a single light in the storage area on the curb side of the trailer.  While it works well, there isn't one on the other side and I have had to add a light.
Vent in the master bedroom.  It would be really nice to have a ceiling vent in the bedroom
Temperature control on hot water.  The hot water heater has a fixed temperature and we find it to be hotter than we like.  This causes us to use more water as we have to mix cold with the hot to get the right temp
Water pump access.  While a little door is provided, it is nearly useless as it is not big enough to get hands in to work.  It would be great if the pump was located by the water heater so it was easily accessible.  Then the space where the pump is now could be used for a laundry shoot.
Access to dinette storage.  For some reason there was only one door placed on the side of the dinette to access 1/3 of the storage.  The other 2/3 of the storage requires you remove cushions and plywood.  It would be great to at least have another door so we could easily access more of the storage.
Under bunk storage is VERY difficult to get to.  Along the lines of the dinette it would be great if there was a door to access the bunk storage.  Without the door, it is a major pain to access the storage as you have to move the mattress and lift the hatch