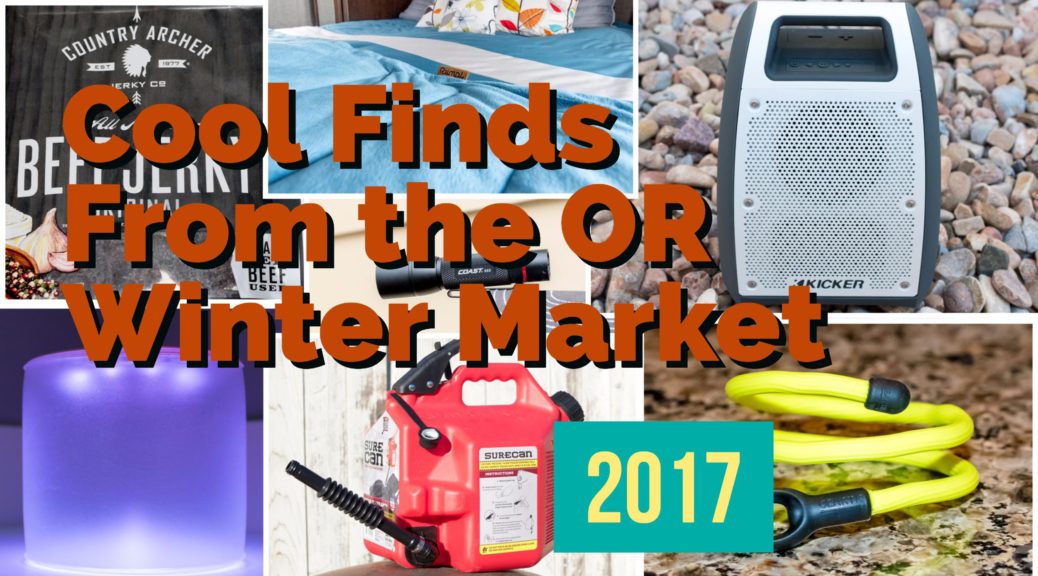 Cool Finds From the 2017 OR Winter Market
Cool Finds From the 2017 OR Winter Market
In January, the annual Outdoor Retailers Winter Market was held in Salt Lake City.  This event is the primary place where manufactures in the outdoor industry come to pitch their product to prospective retail and online shops.  This year there were 1,075 outdoor and lifestyle brands represented at the show and 163 of them were there for the first time.  It is hard to stay focused at a show like this as there is simply so much to look at.  That being said, the products below stood out to us as items that would be of interest to the RVing community.  We tested many different things and the ones we liked are included below.  You can also hear my comments on Episode 134 of the RV Family Travel Atlas podcast, or by clicking play at the bottom of this post.
Super Fleece Blanket by Rumpl
I first meet the team at Rumpl back at the 2016 Winter Market.  At that time they were showing off their their Original Puffy Blanket.  The team let me know about a Kickstarter campaign for a new Super Fleece Blanket that seemed like it would be perfect for our audience.  Now one year latter the Super Fleece Blanket is a reality and just as cozy as I anticipated; their packaging even has an RV on it.  The blanket that we received to test was queen sized to match our bed in the trailer.  It measured 92 inches x 92 inches, which is slightly larger then they indicate on their site.  With an RV Short queen typically being 60 inches x 75 inches, you will get some nice overhang with this blanket.  The Super Fleece is made of a durable water resistant (DWR) fabric on one side and a very nice anti-microbial fleece on the other.  Cleaning up spills was easy due to the DWR.  In testing, it caused liquid to bead up allowing us to simply wipe the spill away with a clean cloth.  We found this blanket to be cozy and warm and was great for use on cool and cold nights.  We did feel that this would be a bit too warm in the summer though.  The blanket comes with detailed washing instructions which we followed (other then the suggestion to use a front loader) and it washed and dried really well.  All in all this blanket is a hit and something that we will be keeping in the trailer and likely buying another one for the house.
Available from Rumple for $150
Jerky from Country Archer
So, jerky is jerky right?  Well that is what I thought.  There is the typical stuff you buy in the store that is generally fairly tough and has a very processed feel.  Don't get me wrong, I have been known to polish off a bag of that stuff without really thinking about it.  So when I stopped by the Country Archer booth and tried a sample I was very surprised.  Their jerky is very flavorful, not tough at all and its from all grass-fed beef.  They offered to send me a sample after the show, which actually ended up going to Jeremy & Stephanie.  They felt bad about it, but throughly tested out each of the flavors.  When the people at Country Archer followed up with me, they felt bad about the mix-up and sent me a sample pack.  So needless to say, their team is totally awesome.  Why are they willing to send so many samples?  Because once you have had their products, there is no way you would go back to that processed stuff.  Their company dates back to 1977 and originally sold its jerky in roadside stands.  Now their products are sold nationwide and available at places like Starbucks, Sprouts, Kroger, Target as well as their website.  A cool tip is that on their website they sell a 12 pack of smaller 1.5 oz packages.  This would really help to keep thing fresh and control consumption a bit. Out of the eight different flavors that we sampled our top picks were Original, Honey Dijon & Crushed Red Pepper.  Some of the other spicy flavors were great but we had concerns about consuming them while on the trail and needed more water.  The Frontier bars are a great meat-based protein bar and the clear winner in our house was the Herb Citrus.  It had a nice refreshing taste and would be great to throw in the the pack for the next hike or paddle around the lake.
Available at various retail stores and online from $6
Gear Tie by Night Ize
At first they might not look like much but Gear Ties have many uses.  These are essentially twist ties that are rubber and 100% re-usable.  In talking with the Night Ize staff, they have a very special process that bonds the rubber coating to the wire that is on the inside that prevents separation.  The ties come in many different sizes and lengths.  From 3 inches, which is great for winding up headphone and charger cords, to the 64 inch mega that could help secure larger items like a bike or kayak.  I received my first Gear Tie several years ago as a Christmas gift from a family member.  At first I wasn't sure what to do with it, but I soon found out that it was perfect for securing a propane bottle and my portable air compressor in the bed of my truck.  I have several that are on cords to help keep them organized and have one in my office that I use to hang my headphones on.  My father-in-law even uses one to keep his BBQ tools together.  I suggest picking up a few of these in different sizes and having them around; you will be surprised how many uses they actually have.
Available at many outdoor retailers and from Nite Ize from $5
Luci Color by Mpowered
These fun inflatable lights are a perfect way to spruce up your campsite.  From hanging them in the trees, or using them as marker lights around the perimeter of your campsite; the Luci Color will run using the power of the sun.  You could even add one or two as part of your "unbreakable table" decorations.  The lights are also totally waterproof and will also float, so throw one on the back of the kayak for a fun nighttime paddle on the lake.
Available on Amazon for $25
HX5 from COAST
The HX5 is a small (2.5 oz) flashlight that is a great option to take with you on your everyday adventures and to have with you around the campsite.  It has a 130 lumen output on a single AA battery.  While there are some lights that are brighter, the fact that this one runs on a single AA batter is the killer feature as AAs are easy to find and if you standardize on them, you only need to carry one kind of battery with you.  The light is activated with a tail switch that allows for momentary activation or permanent on.  The beam is focused using a sliding bezel which is easy to manipulate one handed or with gloves on.  Another cool feature is the 2-way clip.  This allows you to clip it to your pocket for storage, or the brim of your hat to use as a headlamp.  Coast also claims a 3 hour and 45 minute run time.  In our testing we found the light output to be totally usable up to 4 hours; after that it starts to noticeably fade, but is still usable up to 5 hours.  The LED finally cut out after 6 hours and 20 minutes of continually running.  I have been carrying another name brand light for a lot of years but after receiving this one to review, I haven't switched back and don't think I will.
Available form Coast or on Amazon for $25
Bullfrog (BF400) Jump by Kicker
Jump is the first in a new Bullfrog line of portable speakers from Kicker.  This speaker has a built-in FM tuner, AUX line in and Bluetooth.  The speaker also features a very nice design which we found stayed upright, despite trying to bump it and knock it over.  This is partially due to the weight (9 lbs) which is likely from the internal battery.  This is not a speaker that you are going to take on a hike with you but rather something you will use around the campfire or while at the beach.  While Kicker states you will get 20 hours between charges, we found 16 to be a more accurate number.  While 4 hours less then their claim, we still found this to be plenty of time.  To help keep your device going; they have also included a 2.1A USB charging port.  We did note, that the USB port is only active while the speaker is on.  The speaker charges via an included AC wall wart.  With a bit of know-how you could make up a 12 volt charging cord.  Kicker says you can get 100 ft away from the speaker while using Bluetooth.  In a no obstruction environment we were able to achieve 150 ft before the music from our cellphone started to break up.  One of the really nice features of this speaker is that it meets IP66 waterproofing standards.  This essentially means that if you leave it out overnight and it rains, you will be just fine.  Bluetooth pairing is quick and easy and the built in controls on the speaker are very easy to operate.  The Bullfrog does have the ability to pair with other Bullfrogs speakers (Double-Kick Mode) giving you the ability to spread out the sound even more.  We did not test this feature as we were only sent a single speaker.  Audio from the speaker is clear and sounds great at low and mid volumes.  We did find that at the higher levels there was a lot of over modulation and distortion.  In reality, around the campsite, you will be listening to this at the lower levels out of respect for your neighbors.  All in all we found this to be a nice item to have around the campfire.
Available from Kicker or on Amazon for $399
SureCan by SureCan Inc.
So you might be thinking… a gas can?  Yea, but not just any can, this is a SureCan.  For a while now I have really disliked the current gas cans that are available that have the sliding nozzle mechanism.  I feel like a person in an infomercial getting gas all over the place whenever I use them.  I don't know why they are so difficult, but I had essentially given up hope and just got used to using them.  However, I happened across the SureCan and my mind was blown.  A gas can with a rotating nozzle on the bottom of the can and an on and off trigger to start and stop the flow of gas.  Are you kidding me?  The people at SureCan sent me their 2 gallon model and so far I have been very impressed.  One of the hardest things to fill up with the other cans was my generator.  Using this can, it was totally easy.  The ability to start, stop and slow the flow of gas, made it so I didn't spill a drop.  I did have to hold the can a bit higher than normal, due to the nozzle being on the bottom but that wasn't really an issue.  We did have some trouble in our testing with the safety on the safety on the trigger.  If the trigger is pressed at all the safety cant be released.  This isn't really a flaw, but more of us getting used to how to grab and manipulate it.  Overall the SureCan is a huge win in my court.  I would highly recommend that anybody that wants an easier fueling experience pick one up ASAP!
Available on Amazon for $40