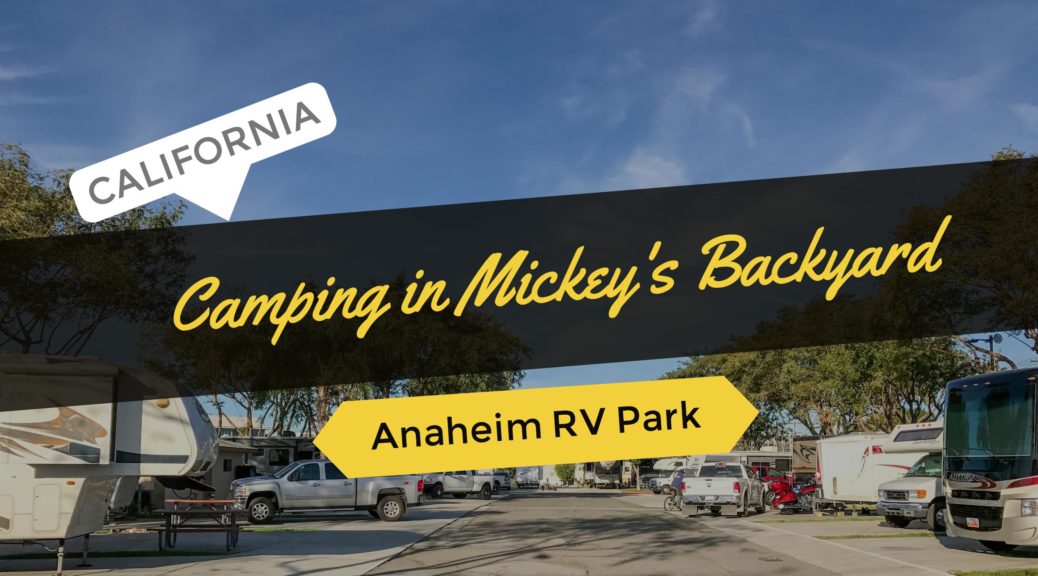 Camping in Mickeys Backyard
Camping in Mickeys Backyard
After having a great Disney vacation back in 2015, we decided it was time to visit the happiest place on earth again.  This time however we opted to forgo the typical hotel accommodations in favor of our travel trailer.  The thought of coming back to the campground after a long day at Disney and relaxing outside by the fire seemed like a wonderful option.
After a bit of looking we decided to stay at the Anaheim RV Park, which is located about 10 minutes from Disneyland.  So back in September of 2016 we made our reservations on their website and were set to go.  In mid October, I received an email from Caitlin with their reservation desk.  She advised that the sites that we had been assigned were on the exterior edge of the park and that we might be more comfortable on a site that was a bit more interior.  After a small discussion, we had our reservations changed and now we were truly good to go, we just had to wait until March…
Because we were still in the cold season at home, visiting the pool was a top priority for Lily.  We have found that the pool is also a great reward after a long car ride.  The drive down was not exactly an easy one as we passed through several rainstorms and had high winds.  I had to keep shaking my hands out as I was gripping the wheel so tight, but once we arrived everything was great.  The campground has a stop for the Anaheim Resort Transit (ART) bus system.  Bus passes are $5 per day (kids are $2) and they allow you to go back and forth as often as you like.  The busses come about every 30 minutes and were clean and didn't have a ton of stops.  The cool thing is that the campground is the first stop, so there were always seats available and your ride home at night was short.
We had three full days in the park, which we have found is a good amount of time to explore both Disneyland and California Adventure.  This was Lilys second time to Disney and the first time that she could ride all the rides.  We were super bummed as Pirates of the Caribbean was closed for maintenance.  But on the bright side, less time in line for pirates meant we could hit other things.  We made great use of the fast-pass system and with generally short lines we were able to maximize our time.  My top ride this time around was Big Thunder Mountain Railroad, but getting soaked in the front seat of Splash Mountain with Lily is a close second.
While we were in the area we also decided to take a trip up to Universal Studios.  The park was fun but is very different from Disneyland.  First off, the rides and attractions are targeted to a much older crowd.  The majority of things at the park Lily had never even heard of and several of them are getting quite dated and even pushing it for Ashley and I.  The majority of the rides are heavy in the VR 4D type of configuration, which is not exactly the best for people that are susceptible to motion sickness.  I don't want to make it sound all bad, as we did have a good time and I am glad we went to Universal.  However, I am not sure we would go back.  If somebody ask me if they should go while visiting Disneyland, I would really ask them a lot of questions about their trip and the overall plans before recommending it.