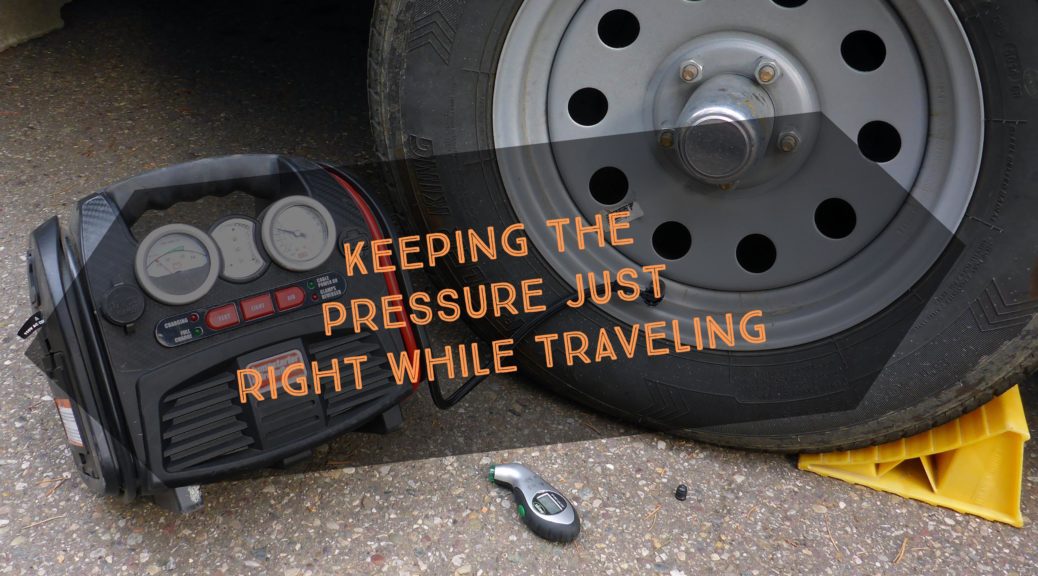 Keeping the Pressure Just Right While Traveling
Keeping the Pressure Just Right While Traveling
You probably don't spend much time thinking about your tires, especially the ones on your trailer.  Having a properly inflated tire is not only safer, but it can also improve your gas mileage.  Everybody's favorite RV Safety guy, Mark Polk from RV Education 101, has some great tips on his site.  He specifically mentions that one of the biggest problems with RVs today is under inflated tires.  Mark says, "Failure to maintain correct tire pressure can result in fast tread wear, uneven wear, poor handling, and excessive heat buildup, which can lead to tire failure."  He also states that the only true way to know the pressure is with a high quality gauge.  Simply doing a visual inspection is not enough.  "There can be as much as 20 PSI difference between tires that look the same to your eye" says Mark.
A while back we purchased the PowerStation PSX-3 from Costco.  This portable jump pack is a battery that has built in jumper cables and an air compressor.  This allows us to easily top off any tires on the truck or trailer with very little effort.  There are many compressors on the market and some are a lot more powerful than this one.  The big advantage we see with this specific design, is the built in battery.  This allows us to simply take the unit to the tire and flip it on.  In addition, having the battery gives us the ability to jump start vehicles without needing to move or re-arrange ours.  This can be especially handy if you need to jumpstart somebody and are connected to your RV.  We have even used the jumper cables to connect to a trailer and run the tongue jack when the batteries are dead or missing.
By having the PowerStation PSX-3 with us and visible, it helps ensure that we actually use it while we are traveling.  It has enabled us to truly adopt the practice of checking our tire pressure on every day of travel.  Just remember to check the pressure in the morning before you hit the road so that you can get a cold reading.  While Costco doesn't carry the PSX-3 anymore, similar devices can be found there and other retail and online stores.