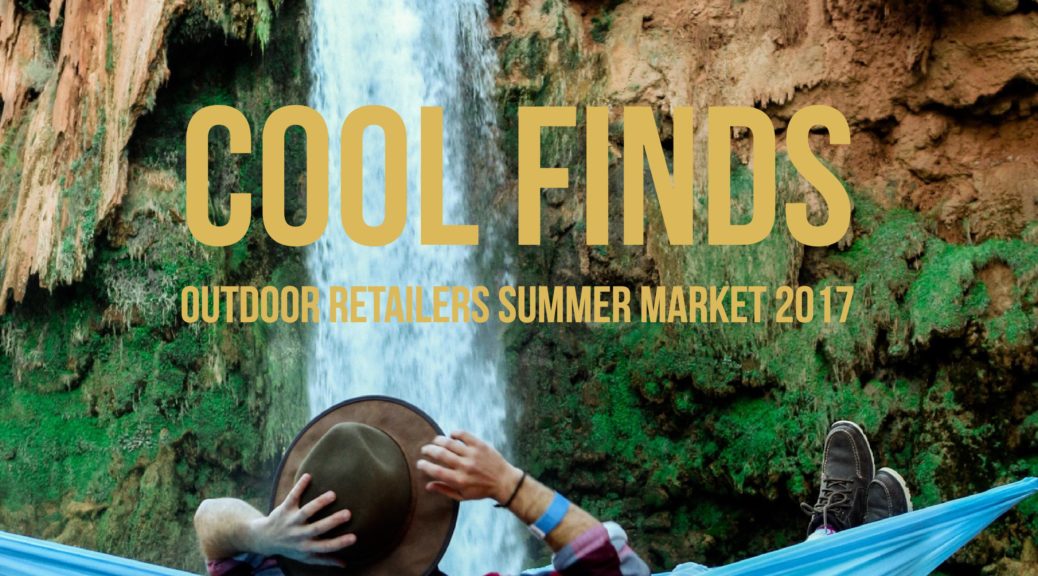 Outdoor Retailer Summer Market 2017
Outdoor Retailer Summer Market 2017
In July we had the privilege of once again representing the RV Family Travel Podcast Network at the Outdoor Retailers Summer Market. As in years past the goal was to find interesting or new products that would be of interest to the RV crowd. While we can not include every product we find at the show, we try and select several that fit a need or are new and interesting. All of the products below we have actually tested and felt that they are truly worth sharing. This year we tested a record number of products and I was surprised how many didn't make the cut. There were several that I was super excited to feature but in testing, they just didn't meet our expectations. That being said, the six products below are worth checking out.
Trekz Titanium by AfterShokz – $129.95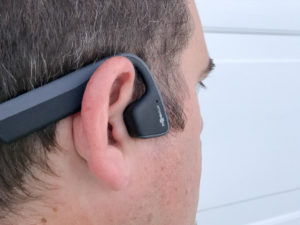 Have you ever been somewhere that you wanted to listen to music but still be able to hear everything around you? With Trekz Titanium this is now possible! These wireless headphones use bone conduction technology to allow you to listen to music without disturbing others around you and without blocking your ears from hearing the sounds around you. Bone conduction has been around for a really long time (like since the 1800s) but has recently found its way into consumer products such as Google Glass and now the Trekz Titanium. Simply slide the speakerless headphone on your head, placing them just in front of your ears and like magic you start hearing the sound. The internal transducers in the headphones guide vibrations through your cheekbones and into your inner ear resulting in you hearing the music without blocking or plugging your ears. This can be extremely valuable when environmental awareness is needed for safety reasons, or you simply want to enjoy multiple sounds at one time. At first, I was a bit skeptical but after multiple weeks of use, I have really come to enjoy the Trekz Titanium headphones. I have been able to pair them with my laptop and use them for music in the office and still hear when somebody walks up to my desk. I have paired them with my phone and used them during meditation for things like Headspace; allowing me to hear the meditation guide and also being able to observe the sounds around me. I have even used them while mowing the law. however, I did have to use the included earplugs due to the volume of the mower. Being Bluetooth, these headphones can also be used for calls on your cell phone. I have found the call quality to be good and I have had no reports of audio issues with my audio. These were exceptionally nice when I needed to be on a call but was at home with friends and didn't want to miss out on the conversation. There is also a multifunction button and volume controls built into the headphones allowing you to make adjustments without needing to grab your phone. In our testing, we continually got over 11 hours of continuous music play time. AfterShokz only claims 6 hours in their marketing material. Perhaps if you are doing some phone calls the battery life is shorter. The headphones are also quite durable, allowing for a lot of flex in the band that wraps around your head. I would have no worries about throwing this in my bag and heading out for the day. They are also IP55 rated to protect against sweat and moisture. While they can't be dunked in the lake, they should be able to handle the vast majority of what they get exposed to. If you are looking for some wireless headphones and are interested in keeping your ears open and unblocked, you should really consider the Trekz Titanium.
22oz Bübi Bottle – $24.95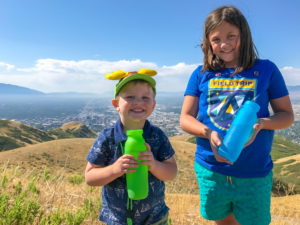 Multifunction items are always something that attracts our attention. When the people over at Bübi Bottle talked to us about their product I knew it was something that we had to tell people about. Ok, so we are no strangers to bottles and mugs so what makes this so special? It is virtually unbreakable. The bottle is made from silicone and can roll up and tuck into the attached carabiner. This makes it great to throw in your day bag giving you the option to always have a bottle with you. Sure, there are those other bag style bottles that roll up, but the Bübi will stand upright on its own. In addition, the opening on the top is large enough that you can easily add ice to the bottle and fill it up at a fountain. Being made of silicone it is stretchable and will not break or dent if it falls off the counter, making it perfect for families with kids. I was even able to stand on it without it bursting or stressing in any way. The Bübi can also be used as an old hot water bottle heater. Just fill it up with hot or boiling water and tuck it under your blankets to keep you warm. In a pinch and need a dry bag for your phone? Just stretch the Bübi around your phone and screw the lid on. Just make sure the bottle is empty first though. In our testing, we found that the bottle did not keep things cool like a double wall insulated bottle, but was great for around camp and for short daily adventures. The carabiner is extremely handy doubling for storage and holding the bottle on a pack or belt. We did find our selves wanting the lid to be attached, simply so it wouldn't get lost. Perhaps purchasing the Sports/Sippy cap (untested) would resolve some of these concerns. In addition, it appears that the cap would also help prevent spills as when the standard cap is removed the bottle is wide open.
Flip 4 by JBL – $99.95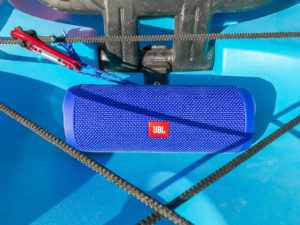 The JBL Flip 4 is the next version of their hottest selling portable speaker. We have been watching the Flip for several years now and the biggest update in the 4 is that it is now fully waterproof which enables it to travel with you to even more locations. We have been able to use it at our campsite, at the park, at the pool, and on the kayaks. The sound quality is superb and the lightweight cylinder design allows it to fit in most cup-holders or drink pockets and easily be strapped to a bag. While the Flip 4 is waterproof, it does not float. So if you are taking it out on the Kayak, be sure to have it tethered so you don't lose it. We have only done some minor testing with the speakerphone as this isn't a primary function for us but all indications are that it works as expected. JBL claims up to 12 hours of battery life and in our testing, we are consistently receiving close to that amount.
Stops the Sting by Mountain Mike's Remedies – $6.99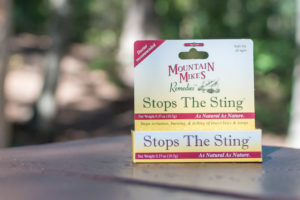 With all the time RVers spend outdoors we are bound to get a bite or a sting at some point. This year I was fortunate enough to meet Mike Fultz from Mountain Mike's Remedies and he introduced me to his product Stops The Sting. They claim that this all natural ointment works on stings and bites from bees, wasps, hornets, yellow jackets, mosquitoes, no-see-um's, biting flys, ants, jellyfish and even scorpions. While I wasn't going to intentionally get stung like this Good Morning America reporter, and jellyfish are in short supply in Utah, I figured I would try it on a mosquito bite. After applying the Stops The Itch ointment the pain/itch from the bite was mitigated within minutes. I did find that throughout the day I needed to reapply the ointment but a small amount seemed to do the trick. Stops The Sting is all natural containing only Colloidal Oatmeal, Tea, and Kaolin Clay. This makes it safe for all family members to use. In fact, their tagline is "AsNaturall as Nature."
MicroMobile GMRS Radio by Midland – $149.99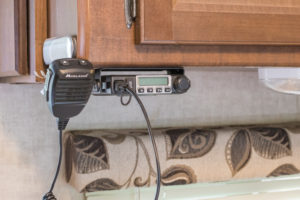 I was excited to find some radio gear that we could include in our gear guide. And this year my favorite FRS and GMRS radio manufacturer had their MicroMobile radios on display. We use radios all the time when we are camping (see: Can you hear me now) and now being able to have a higher power "base station" is really cool. The MicroMobile is a very small radio and comes in a few different configurations depending on your needs. These would be great mounted in the RV, your tow vehicle or OHV. The higher power and magnetic antenna will help ensure that your signal is getting out and you are able to hear the others in your crew. With the MicroMobile mounted in our RV, we are always listening to the channel which makes it really easy to communicate with other family members. The radio draws 0.2A when powered on and just over 3A when transmitting on high power. While this is not something that really matters if you are in a campground with hookups, you will want to be aware of this if you are running on your house batteries.
One note of caution is that the magnetic antenna will not stick to aluminum which can be an issue for RVs and newer Ford trucks. It's not that they can't be used, you might just have to look into other antennas or getting a bit creative. In our testing, we attached the antenna to the RV stairs and rear bumper. Also worth noting is that to take full advantage of the MicroMobile radios you will need to obtain a GMRS license from the FCC. This is easy to do and a single license covers your family, is good for 5 years and costs $90.
Keg Cap from DrinkTanks – $45.00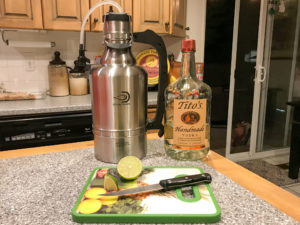 The Keg Cap is an add-on accessory for the already popular growlers from DrinkTanks. It allows you to pressurize the growler essentially giving you a keg style serving experience. The Keg Cap replaces the standard cap on the growler and has a tube that runs from the bottom of the growler out to a pouring spout. The cap also features a port that allows you to charge (pressurize) the growler using a small CO2 cartridge. The CO2 cartridge is very similar to the ones that you might use on bike tires when fixing a flat. Just a small burst of CO2 is all you need to start pouring drinks from the tank. Pouring a beer using the Keg Cap gives you a nice head in the glass much like you would get from the tap at your lock micro brew. After working with the Keg Cap for a bit we quickly determined that we could actually use this for more than just beer and started to get a bit creative. At one family party we even just threw a two-liter bottle of lemonade in the growler and allowed the kids to serve themselves. This is a great add-on accessory if you already have a growler from DrinkTanks or one of those must have items if you are really into the craft brew scene or are even an amateur homebrew master.