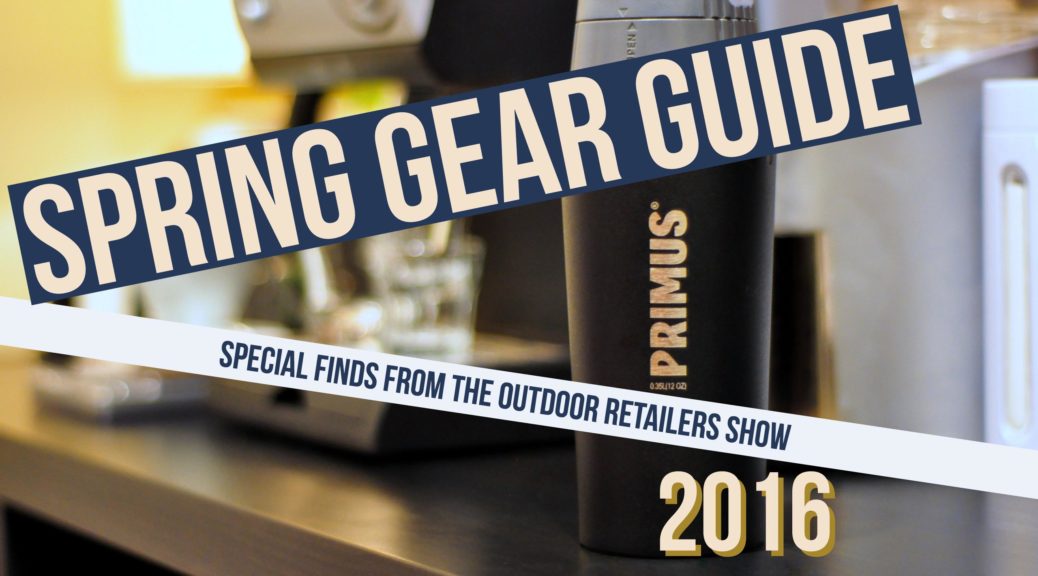 Spring Gear Guide 2016
Spring Gear Guide 2016
In January,  I attended the Outdoor Retailers Winter Market show here in Salt Lake City on behalf of the RVFTA Podcast Network.  My task was to identify several items that were unique or would be great for people ,traveling and vacationing in RVs.  First off, the show was huge and basically everything outdoors related was there.  So the real trick was not getting caught up in the latest jacket or boot technology (by the way be sure to check out future winter boots with Vibram Sole Grips Ice, they were amazing) and to stay focused on finding good stuff that people might not see in their local stores.  So without further adieu, the  following are my picks from the 2016 show and a few others that I consider good enough to share.  You can also listen to Episode 79 of the RV Family Travel Atlas Podcast to here me talk about these products.
Trailbreak by Primus (Link)
Its a funny thing when a product surprises you with fantastic results and the Trailbreak by Primus did exactly that.  I was fully prepared to make a recommendation for a different vacuum sealed mug and decided to get some actual numbers relating to the rate that things cooled off.  I grabbed this mug out of my cabinet to use for comparison and low and behold it not only did well it totally beat out the competition.  I hadn't really considered Primus a player in the vacuum sealed mug market but they are now my new favorite.  As a matter of full disclosure, the Trailbreak I tested with was given to me but I would happily pay for one.  In fact I actually returned a new mug from another manufacture after running these tests.  It has been several weeks now and I couldn't be happier with how well the Trailbreak performs.  How well does it perform you might ask, here are some stats from my highly scientific testing:
As you can see, after 9 hours the liquid was over 100⁰ and had only dropped 65⁰.  This was totally impressive to me and totally changed my opinion on the best vacuum sealed travel mug.  The Trailbreak is also AreoPress friendly if you use the loader.  The actual opening of the mug is smaller then the filter so you have to use the loader to press into it.  The small opening can be a bit of an issue if you are doing a pour over directly into it.  On a few occasions, coffee missed the mug as the stream from the elevated Hario V60 was not going straight down.  Again, due to the small opening a V60 will not fit into the mug, so it is best to prepare into a separate range server and then pour into the Trailbreak.  The Trailbreak lid is also a great design that allows you to easily click it open with a quarter turn.  A convenient sloped design also makes drinking from the mug really easy.  For cleaning, the lid separates into two parts and is very easy to rinse or quickly scrub with a brush.  The only issue I have had is that the rubber bottom separated from the mug.  I simply put a few dabs of superglue and it was right back like nothing had happened.
As you can tell I am totally in-love with the Trailbreak by Primus and would highly recommend it.
JakRak by Sprigs – (Link – Releasing in April)
While at the Outdoor Retail Winter Market I was fortunate enough to meet the team from Sprigs and they introduced me to their latest product called the JakRak.  What is the JakRak you might ask?  Well in short, its a rack for your jacket that you will always have with you.  Have you (or your kids) ever had a jacket on; only to enter a building and then find yourself carrying your (here mom, hold this) jacket?  Maybe you have attended an outdoor festival on a cool morning and by mid day your are no longer needing your jacket and have no place to put it?
The JakRak quickly and easily attaches to the inside of any jacket.  Since the JakRak is on the inside, nobody can see it while you are wearing your jacket.  When you want to take your jacket off, simply slide it off your shoulders and onto your back.  The JakRak will hold your your jacket like a backpack making it totally hands free to carry it around.  You can wear the JakRak over both shoulders (like a backpack), over one shoulder or even cross body like a sling pack.  Another great feature is the ability to quickly put on your jacket.  The sleeve openings are right there, so just insert your arms and and rotate the jacket back on.  In using the JakRak that was sent to us for a few weeks we found that is very convenient and works quite well.  On occasion we had to play with the placement of the clips a bit when changing jackets.  After using this on several coats and jackets it seemed that the optimal position is about 2 inches below the sleeve on both left and right and about 2 inches down from the tag area at the top back of the jacket.  The clips have some good teeth to hold on with, so we always made sure to give it a good spot to hold on to.  We tried it on some lighter-weight materials and could see no damage to the fabric.  I could imagine though, if the clips didn't have a good grip it could slide off and possibly damage the fabric.  I think this is best suited for mid to lightweight jackets.  Heavy coats such as a wool pea coat might not be the best partner for the JakRak
Minipresso GR by Wacaco – (Link)
I love my coffee.  I wouldn't say I am a total snob, but I do enjoy a good single origin from a local small batch roaster.  Like most coffee enthusiasts I have been building up my collection of coffee gadgets.  Some are keepers and some find their way back to the store fairly quickly.  My typical go to in our travel trailer has been a pour over. With a nice clean cup and low tech production, how could you go wrong? Occasionally though I crave an actual espresso.  I like a strong cup, small quantity with just a bit of milk or cream, yum!  I guess I could pack up my espresso machine from home (assuming I had the power to run it) but that seems like a lot of work.  Fortunately, the Minipresso from Wacaco is a portable, single shot espresso maker that can easily go with you.  It weighs in at under 1 pound, uses no electricity or CO2 and will produce approximately 8 bars of pressure.  This level of pressure is not something that is found in other brewing methods which makes this true espresso.
There are a lot of parts to the Minipresso but the overall process is quite simple and the results were fairly impressive.  First, you heat your water externally (in our trailer we do this on the stove top).  Then you fill the provided scoop with 7 grams of the coffee of your choice.  In talking with one of our local coffee shops, you need to be careful not to use too fine of a grind to avoid clogging.  In mine I have been using a grind in between that of a typical espresso and the grind I use for a pour over.  Then you transfer the coffee from the scoop to the filter basket (equivalent of the portafilter) and do a lite tamp.  Screw on the spout, fill the water cup up to the line, screw it on and start pumping. After 6 pumps your espresso will start to emerge and after 26 pumps total you will be ready to enjoy.  I usually like a double shot and did not find it overly inconvenient to quickly rinse off the Minipresso and start over.
Some of the online info would maybe lead you to believe that you could prep the Minipresso at home and then use it during your commute.  I found that the water chamber is not tight enough to prevent leaking and is surely not insulated enough to prevent cooling.  You could however, pre-stage the coffee and bring the hot water with you in another container.  Wacaco also has a Minipresso Tank for just this purpose. However you could just as easily use any vacuum sealed mug ( like the Primus above).
As you can see in the pictures below,  the result is a nice shot with a good bit of crema.  I am happy with the Minipresso that was sent to me to test and it will be traveling with us this camping season for sure.
Capture Pro by Peak Design – (Link)
Going into the 2015 camping season I decided to go lightweight and picked up a waterproof point and shoot.  I really enjoyed using it,  but now looking back on my pictures they just simply are not as good.  Sure its not all about the gear and I still got some great shots, but my happiness level overall is just not as high as previous years.  Part of my issue with my DLSR was finding an easy way to carry it while we are out hiking.  Keeping it inside my bag offered great protection,  but prevented me from getting shots.  My Rapid Strap is awesome,  but the camera ends up gets banged around a bit as we are hiking.  I was really in need of a better solution; something that allowed me to easily carry my DSLR, while keeping it secure and easily accessible.  I was fortunate enough to come across a 2013 blog post by Currently Wandering about the Capture Pro.  It seemed like just the solution so I ordered one.  The team at Peak Design was great to work with and when the Capture Pro arrived it was installed and working in a matter of minutes.
One of the nice parts of this product is that you can clip the base to multiple locations.  For me, I chose the strap on my hiking backpack but could easily change it to, my belt or another location on my pack.  It will clip to any strap or belt that is up to 3 inches wide and up to a half inch thick.  I did find after installing it that my pack was pulling to one side due to the added weight of the camera.  I had to make some minor adjustments,  but all in all it works very well.  Peak Design also makes other attachments that support devices such as GoPro cameras, binoculars or other lenses, making the Capture Pro a fairly versatile system.  While I am using it for my DSLR, you could use it on any camera that has a standard 1/4 inch 20 tripod thread mount.
While I cant say this is the best thing since sliced bread, it is a great gadget that will allow you to keep your camera accessible and secured while hiking.
Gear Patches by McNett – (Link)
The people over at McNett have created these fun patches that you can place on all of your gear.  The actual intent of the patches is to repair damage such as a tear, but I personally think they are great for simply customizing your stuff.  After meeting the people from McNett at the Outdoor retailers show, they sent me several samples to check out.  As you can see from the pictures below we stuck the patches to several different materials, even the fuzzy part of a fleece jacket.  They claim the patches are adjustable for up to 24 hours but in testing I wouldn't give it much more then an hour or so to make adjustments.  After that time they really start to stick and after 24 hours they are essentially part of your gear.  All of the patches were put through wash and dry cycles and came out looking like they were part of the garment from the beginning.
Gear Patches come in a variety of pre-cut shapes and packs are themed for camping, kids, hiking, outdoors, etc.  Most designs are available in color, black or reflective.  We did find that when placing one of the lighter colors on a particularly bright material it would show through a bit.  That really only seemed to happen with the bright yellow-ish green (wolf / fish) that you can see in the pictures below.  All of the other colors, black and reflective patches are opaque.  McNett also has rolls of tape and other repair products that would be great for larger jobs, and surly beats duct tape.
We had a great time customizing our gear with Gear Patches and look forward to doing more in the future.
Backpack Bocce Balls by GSI Outside Inside – (Link)
Ok lets face it we have some beautiful campgrounds in this country but sometimes they are lacking things to do for the kids.  As such we are always on the lookout for games and activities to help pass the time until the next big hike or outing.  The Backpack Bocce Ball set from Outside Inside will be a great addition to our traveling entertainment this year.  The set was sent to me by GSI and we have had a ball playing it in the backyard and at our local parks.  For Bocce purists this is not a regulation set.  It is however, a highly portable, lightweight kit that can easily travel with you and provide a good amount of entertainment.
Last year we setup a horseshoe pit at a few of our campsites and that proved to be a bit problematic. The two biggest issues were the fact that the clang of the shoes is not a favorite sound of other campers and second they are quite heavy and difficult to through for our daughter.  The Backpack Bocce Balls are a great alternative.  They are quiet, except for the cheers of excitement when you are closest to the pallino.  The balls are small (good for little hands) and made of rubber so they are lightweight.  They are not indestructible, but seem like they will hold up for a long time when used as intended.  For those that might not be familiar with Bocce, the basic game is to get your balls as close to the pallino (white ball) as possible.  The way we play is you get 1 point for each round that you are the closest and the first one to 5 wins.
This is a great game that you should throw in the RV before you head out on your next trip.
HydroHeat by Emergency Essentials – (Link)
As RV travelers,  we get the ability to take a lot of conveniences of home with us while we travel.  However,  there are times when cooking on a propane stove or making a fire to prepare a meal just aren't practical. In addition there are times that we are away from our RVs and we might want something other than an energy bar.  The HydroHeat provides and easy way to prepare food without any power, gas or flames.  You simply prep your food in the provided stainless steel bowl.  Then add a half cup of water to the plastic part of the container,  toss in one of the heat packs, assemble the parts and sit back and watch the magic. Within about 3 minutes you will start to see steam venting,  which will continue for about 15-20 minutes.  I tried out the HydroHeat Cooker that was sent to me with good old Ramen noodles and let it go for 20 minutes before I popped the top off to check it out.  The result was great and the food was at a temperature that I felt was ready to eat. Typically when we cook Ramen noodles I need to let it cool but this was good to go.  The HydroHeat would also work well for dehydrated food packs, hot cereals or soups.  I could even see taking this to my office during the week to easily prepare a hot lunch at my desk.
A few things to note about the HydroHeat…  The water you use with the heat packets does not have to be clean water as it never comes in-contact with your food.  That being said you need to be sure to use clean water if needed when prepping your food.  The container does get quite hot and the protective sleeve should be used to avoid injury.  There is about a 30 minute cooking window during which time the temperature will range between 150 and 175 degrees.  All in all I was quite impressed with how easy and well the HydroHeat worked.  I think it is a great option if you are restricted from using power or flame and still want to produce a hot meal.