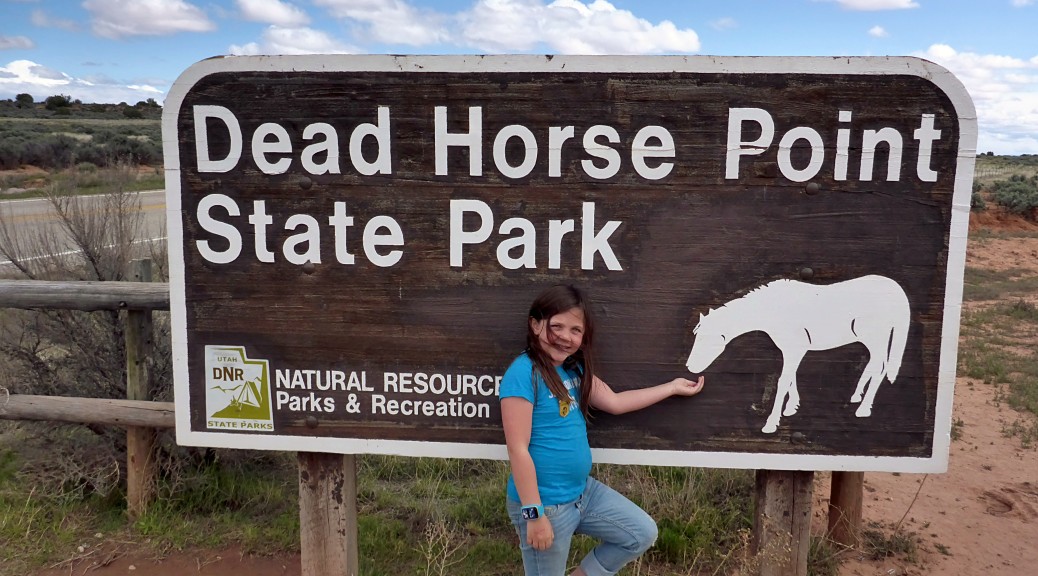 Spring Camping can be a bit hit or miss.  Many of the campgrounds in our area are not open yet and most mountain locations are still quite cold (and have snow).  This, however, is a good time of year to head south.  Two years ago we visited Arches National Park and I thought it might be fun to go back to that same area and visit Canyonlands National Park.
We generally try to stay in the National Parks that we visit.  So naturally, that is where I started to look for camping options when we started our planning.  I quickly realized that the campground options in the park were not really what we were looking for and started to look at other options in the area.  Dead Horse Point State Park quickly came to the top on my list.  Its a small campground with electrical hookups and the sites are reservable; check, check & check.
Leading up to our departure the weather forecast was less than optimal, with rain being predicted every day.  We have learned however to not cancel trips due to the forecast.  But on our drive down, we were second-guessing ourselves when we encountered snow and several rain storms.  Never the less, we pushed on and I am so glad that we did.
The campground was just as I expected and after doing a loop around, I was very happy with our site selection.  The sites were all very spacious and fairly well maintained.  One thing I noticed was how clean things were, including the fire pit (nice job camp hosts).  After getting settled, we headed out to start exploring with our first stop being the State Park Visitor Center which was located about two minutes from our campground.  Up to this point none of us had really seen any of the views, but upon arriving at the visitor center we all started to take it in.
It is pretty humbling to stand on an overlook like this.  The canyons are so deep and the views go on for what seems like forever.  It really makes you pause for a minute and realize just how small and meaningless we all actually are.  The amazing thing is that this park is filled with views just like this.  From the rocky cliffs to the bold colors, this area is nothing short of amazing.
The next two days were intended to be solely focused on Canyonlands.  With no food services in the park, we knew we would be heading out for an all-day adventure when we left.  We started off by stopping at the Island In The Sky visitor center and talking to the rangers.  I wanted to review my planned hikes with them and see if there were any other suggestions.  While there, we also grabbed a Jr Ranger book for Lily and a new stuffed animal.   From the visitor center, we headed south to Mesa Arch.  This short half mile round trip hike is well worth the time and was one of the highlights of our trip.
Right after returning to the car from the arch, it began to pour.  "Man, we timed that one just right."  From there we drove to the Upheaval Dome Trail.  The plan was to have lunch in the picnic area there, but it was still raining when we arrived.  We decided to eat lunch in the car and see if the storm would pass.  Once we finished up lunch, the sky had cleared and we all felt that we could head out for the two-mile hike.  As we started up the trail several people were on their way down that weren't exactly dry.  Maybe its the old Boy Scout in me but how could somebody not be ready for rain given the forecast.  Even if you didn't check the forecast, the clouds in the sky should have been a great indicator of things to come during the day.  When we hike, I carry a backpack with various supplies, including a poncho and I encourage the people I am with to do the same.
Right as we were finishing up the Upheaval Dome hike, it once again started to rain.  We decided to return to camp and come back the next day for the few other spots we wanted to check out.  This also ended up giving us a bit more time to explore Dead Horse Point.  Saturday morning we attended a presentation on "cloud appreciation".  Typically these types of programs are put on by rangers, but this was given by Dan, from the state park maintenance department.  At first, I was a little skeptical but quickly found Dan to be very likable and truly a great guy.  He has an appreciation of life and our surroundings that many of us cant even come close to.  On top of that, the man really likes clouds… and the laminator.
Once again this trip has left me totally floored at the amazing places that are within hours of my home.  I am so lucky to be able to explore these places and so happy that I can do it with my Wife and Daughter.