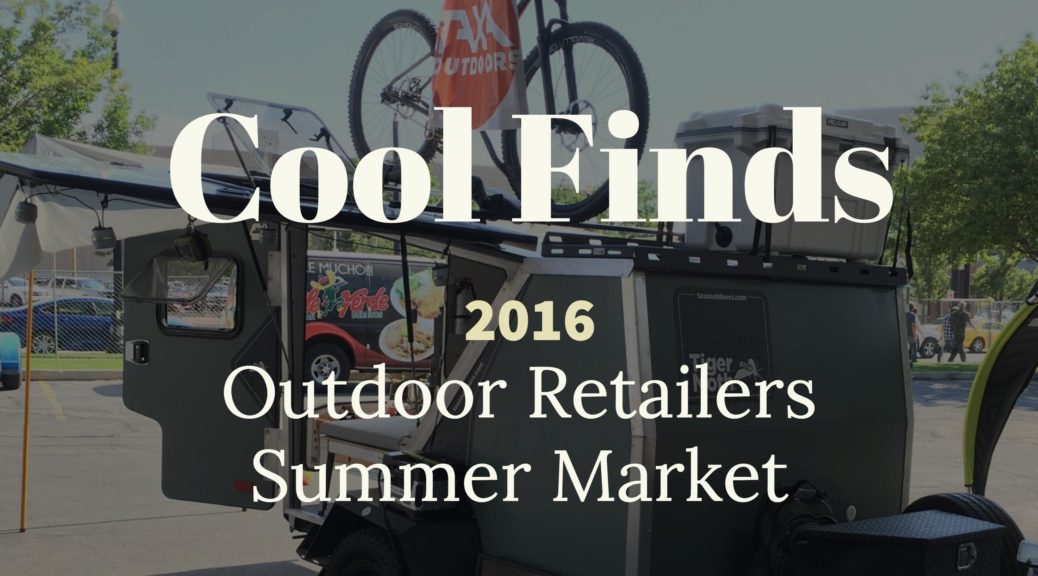 Outdoor Retailers Summer Market 2016
Outdoor Retailers Summer Market 2016
As part of being a Correspondent for the RVFTA Podcast Network, I attend the Outdoor Retailers show in Salt Lake City.  Back in January, I attended the Winter Market (See Spring Gear Guide 2016 and listen to Episode 79) and found some cool gear.  This August, I attended the Summer Market, which is much larger and a lot more relevant for Camping.  Unfortunately I was only able to attend a small portion of the market and wasn't able to seek out as much stuff as I would have liked.  None the less, here are my top picks from the Summer Market 2016.  You can also listen to my comments on Episode 106 of the RV Family Travel Podcast.
Woolly Bear from Taxa Outdoors (Releasing October 2016)
There are not a ton of RVs at the Outdoor Retailers show, but there are a few that have attempted to bridge the gap.  The folks at Taxa Outdoors; most famous for their Cricket Trailer; introduced the Woolly Bear.  As seen above, this small gear hauler weighs in at 700 lb. and provides some great ways to step up your camp without committing to a full RV.  The top deck provides a great elevated platform perfect for two chairs or even your tent.  When in transit the platform flips over and provides an awesome rack space for bikes, kayak or other toys.  The storage bays on the side, provide a nice kitchen area and tons of storage for food and other supplies.  The Woolly Bear really seems to have a place and can easily go with you rather your tailgating, at a local sporting event or roughing it in the back country.
Takeya Thermo Flask (Available Now)
I couldn't possibly do any kind of gear list without some kind of mug or jug.  While the Trailbreak Primus is still our favorite hot drink mug; the people at Takeya gave us a sample of their ThermoFlask to try out.  Since receiving the samples, this has been our go-to for cold water.  We have taken these flasks on our kayaks, horseback rides, hiking, to amusement parks and festivals and seen amazing results in all situations.  One of the best features is the loop at the top.  It is great for a carabiner to attach to your belt or pack or to tie off to a leash on your saddle or kayak.
Butler Rockhopper Overboots (Available Late Spring 2016)
The people over at Butler were one of the first to reach out to me prior to the OR Show about their new product.  They previously released the Emperor overboot and this year are releasing a shorter version called the Rockhopper.  These boots are fully waterproof and 100% made in the USA.  I was very impressed with the velcro attachment on these.  It is really easy to open from the side but holds extremely well when pulled toward the front of the boot.  The sample pair that we received fit right over my daughters shoes and have provided great water protection in our limited testing.  She did say that the tongue hit her leg a bit funny so we will have to do a bit more testing to see if this is a deal breaker.  I suspect that if there is an issue the taller Emperor version would resolve it.
Para'kito Mosquito Protection band (Available Now)
Since I was a little kid I have been one of those that gets these nasty welts when I get bit by a mosquito.  So when the people at Para'kito told me about their product I was really interested.  At first I was a bit skeptical, but after using the protection band several times I was 100% bite free.  Now it is hard to say if we were exposed to mosquitos, but of the three of us using the protection bands and the roll-on, nobody received a single bite.  The bands are very comfortable to wear and come in a wide variety of colors.  The magic is in the disposable pellet that provides protection for up to 15 days.  The pellet contains a blend of essential oils that release very slowly over time and provide a great fragrance without harsh chemicals.  We used the bands and the roll on while hiking, kayaking and horseback riding and found it equally effective in all situations.  We did notice that it does not seem to have any effect on flys or other flying insects, but to be fair, the company doesn't claim that it does.
Coolest Cooler (Available Now)
So the last item that caught our eye is the Coolest Cooler and boy is it cool.  Now we don't have any direct experience with this cooler but we just saw it and thought that it was a great idea.  The big feature is that it has a built-in blender.  So now imagine yourself tailgating or setting up a day camp on the beach and being able to whip up some refreshing blended drinks.  The cooler also features a bluetooth speaker and bottle opener as well as a cutting board, knife and 4 plates.  The blender is powered by a rechargeable lithium-ion battery pack that is swappable.  It might not meet the Field and Stream cut for top end coolers, but a unit like this has its place.