Getting Melty with a Basting Lid
Getting Melty with a Basting Lid
While researching trailers I came across a lot of people talking about the Blackstone 17″ griddle. Up until that point I had never heard of the Blackstone and had only seen griddles in commercial applications and small electric ones people used for pancakes. After finding a great sale I decided to pick one up and give it a shot. After a few uses, it was obvious to me that this would totally replace my traditional BBQ. In fact, I have removed the BBQ from our storage bay and only carry the Blackstone now.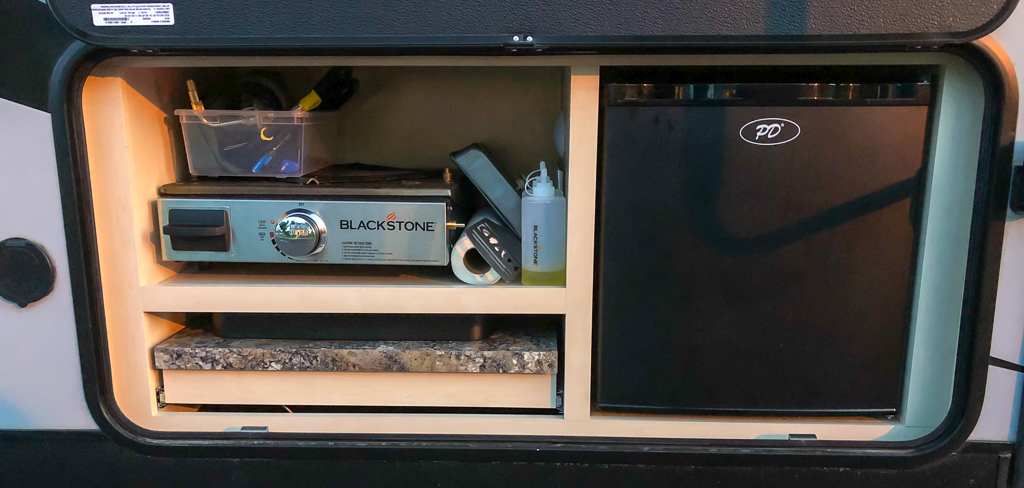 The compact size and portability of the Blackstone 17″ really lend its self to RVing. In fact, the Blackstone can fit in our outside kitchen and still leave room for tools. We carry a special hose that allows us to connect the Blackstone to the trailer's propane quick connect. We also carry a few of the green bottles, just in case we want to use the griddle away from the trailer. When we are not RVing, we actually take the Blackstone out of our Winnebago and use it at home.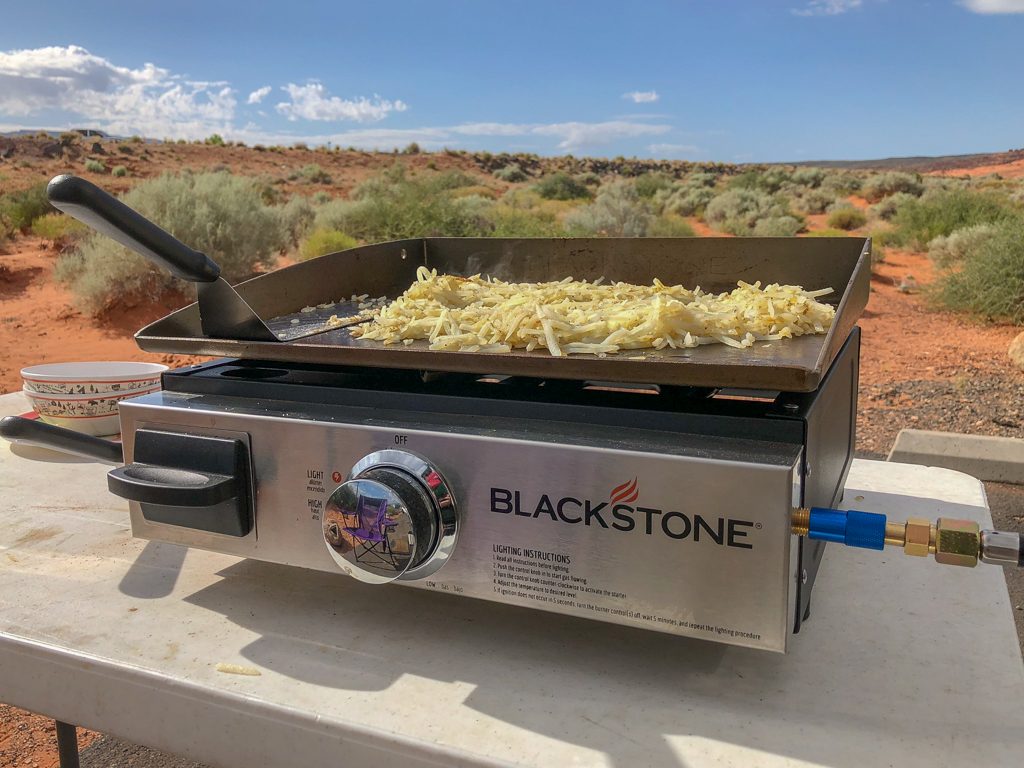 After working with the Blackstone a bit I quickly realized that I needed some way to cover food to help it heat up faster and to do things like melt cheese. Watching the chefs at my office, they would use what looked like a normal metal lid. They generally spray a bit of water next to the food and then throw the lid on the griddle capturing the steam and trapping the heat. Through a bit of research, I found that this was called a "Basting Lid". I also quickly found that virtually all the basting lids that are sold are round but could never find a good reason why. On the small 17 inch Blackstone, space is at a premium so I felt that a square or rectangle lid would be a much better choice. Just like when packing our cabinets in your RV; the use of round containers tend to waste space.
Taking a quick trip to the store I was able to find a 9×9 cake pan which looked like it would work perfectly. I also considered a more rectangle version to allow me to stack stuff along the side of the griddle. The cake pan had handles along the side but I was able to bend them a bit with some pliers and then pound them flat using a rubber mallet resulting in a truly square lid. I then drilled a hole in the middle of the lid and attached a wooden door pull, like you would put on a cabinet. Where this is only 9×9, I just went with a single one. If I was making a bigger version of this I would probably look to use some type of handle. You do need to be careful as the door pull or handle that you put on will likely get warm or hot depending on how long it's on the griddle.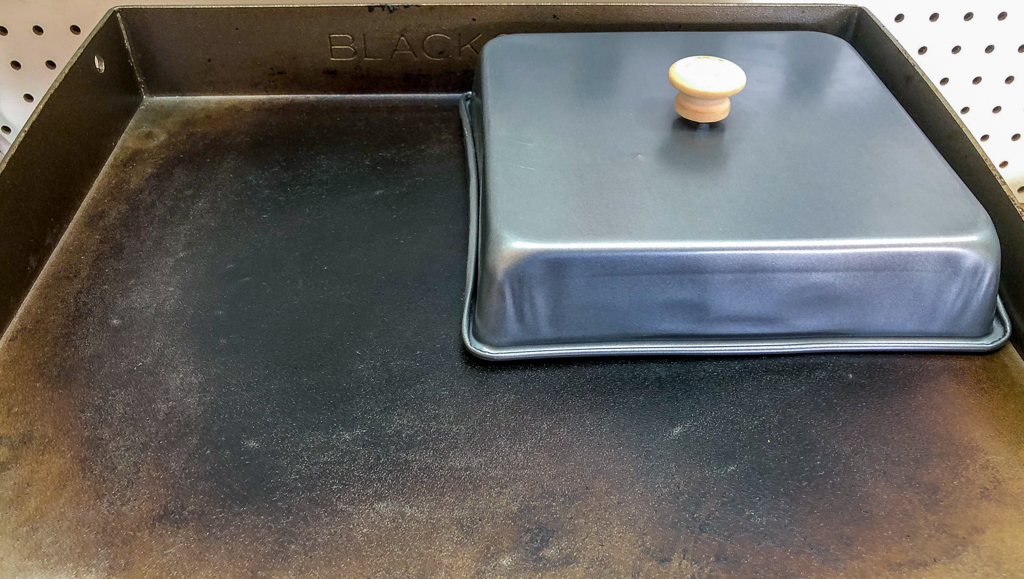 With a small amount of effort, we now have a very functional basting lid. The 9×9 has worked great for covering 4 hamburgers and still given me space to work. Obviously, you could easily adapt this project for a larger lid. So depending on what you are cooking and the size of your Blackstone or another griddle, you can make a basing lid that fits your needs.